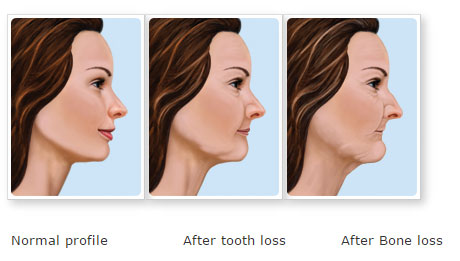 Having a tooth extracted may be the easier alternative when a patient is in pain, but patients do not realize the repercussions of having a gap in their smile. Having a missing tooth may affect a patients chewing ability which will in turn affect your diet and nutrition.
As teeth are lost, the bone surrounding the tooth is lost with it. The alternative to having an empty space, and losing bone, would be to replace your existing tooth with a dental implant. Dental Implants are a smart alternative to replacing missing teeth. If addressed early enough, the placement of a dental implant will prevent the further loss of bone that could result from missing teeth. Dental implants are the standard of care for missing teeth and are safely secured into the jaw bone and create not only support for individual teeth as well dentures.
While a dental implant can be an option for many adult patients, some medical conditions may preclude a patient from having effective results with dental implant treatment. It is important to discuss a thorough medical history with your dental professional and dental team in order to determine whether a dental implant will be the right option for replacing your missing teeth.
Call Ayan Dentistry today for your exam at (239) 732-9000.
All information courtesy of BioHorizons
BLOG ARTICLE