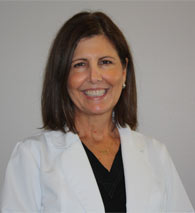 Our Registered Dental Hygienist, Geri, originally from Cincinnati, Ohio, has been practicing dental hygiene in Naples since 1986. She graduated Magna Cum Laude from Armstrong State College in Savannah, Georgia in 1981. She has been working in the periodontal field for over 30 years.
Geri is excited about the role a hygienist plays in helping a patient achieve overall health. She understands the needs of her patients, thoroughly enjoys working with them, and provides quality care in a comfortable and caring environment. She has made it a priority to stay current with the latest advancements in Periodontics.
Outside the office, she spends her time doing volunteer charity work. She has been a team member of Project Smile, and she is a current board member for Laces of Love. She also enjoys her work as a clinician for the Neighborhood Health Clinic.
Geri loves to travel, participating in her book club, and enjoys music. She has fun with her family in Cincinnati, OH, and Scottsdale, AZ, and always looks forward to visiting her sons in Colorado.
For more information about how our team of dental professionals can help make your visit a pleasant one, please call (239) 732-9000.